assignments
assignments
assignments is a feature that allows soona to assign you to a shoot, share shoot details, and organize all your upcoming shoots in one dashboard. see terms of service here.
assignments are visible on your soona dashboard. you are automatically sent an assignment email once assigned to a shoot.
please check your email regularly to ensure no assignments are missed.
the assignment tab + assignment emails help:
notify you about new jobs you have been requested for
organize all your upcoming bookings
you review shoot goals, shot list, assignment notes, and any model details
remind you to accept or declined bookings
update you on any changes to the assignment
video tutorial
please watch this brief overview + video tutorial. then read the additional steps + expectations below.
assignment email types
there are three types of assignment emails:
assignment email
assignment reminder email
assignment updated email
assignment email
assignment emails notify you of a new booking or assignment your services are needed for, prompts you to review the booking information, and requests an "accept" or "decline" response.
the following information is outlined in the assignment email:
assigned role
shoot title
client name
shoot start time + duration (+ expected arrival time information)
assignments notes
links to the booking details page + shotlist
see the example below: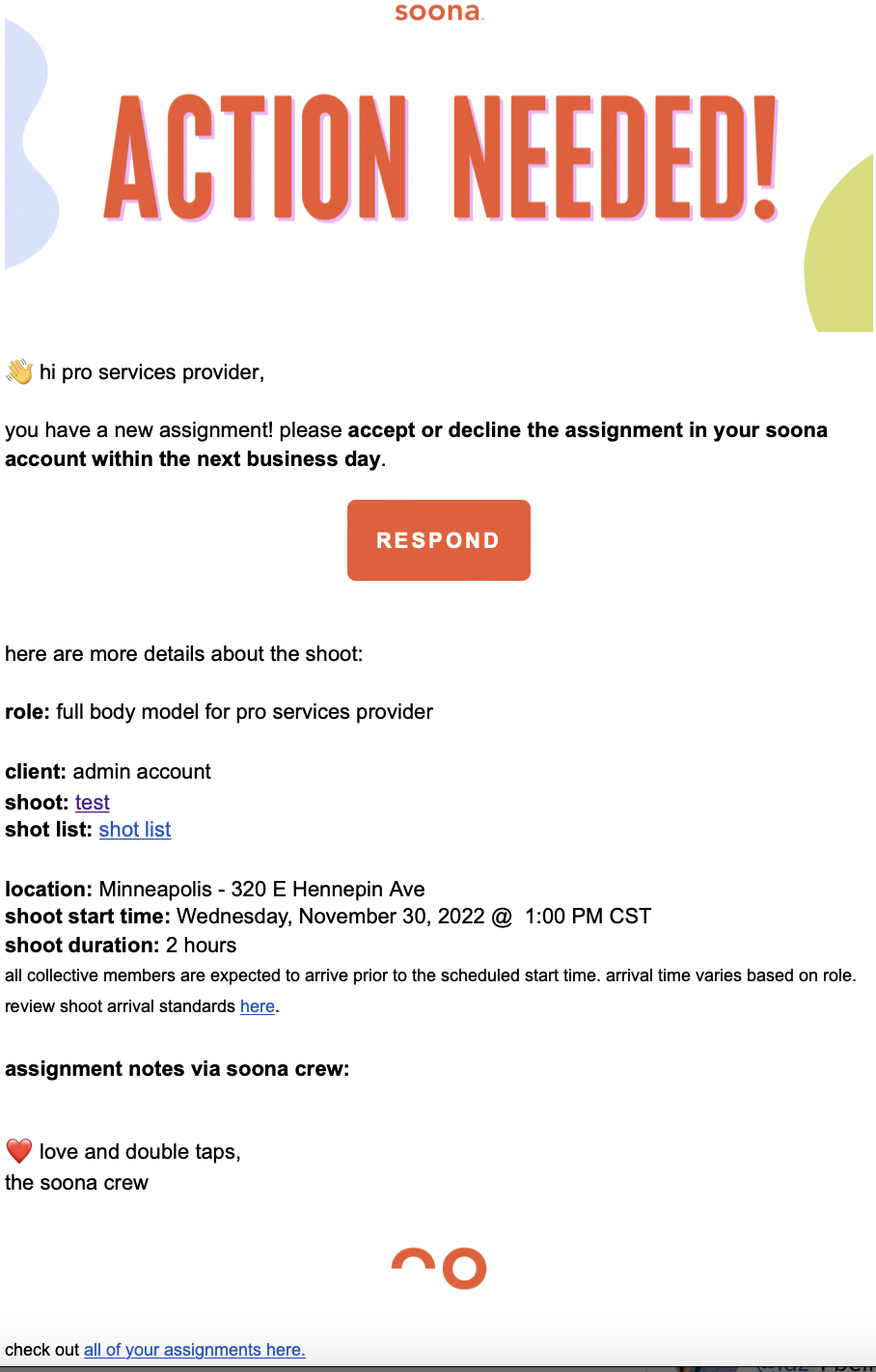 assignment reminder emails
assignment reminder emails are sent when we do not receive an "accept" or "decline" response from you within 1 business day of being assigned to a booking.
this email will resurface all the same information as the original assignment email and once again prompt you to accept or decline the booking within the book.soona.co platform.
if we still do not have an accept or decline within another business day after receiving the reminder email, you will be
automatically removed from the booking
.
repeated non-response to assignments is terms for
suspension
from the collective.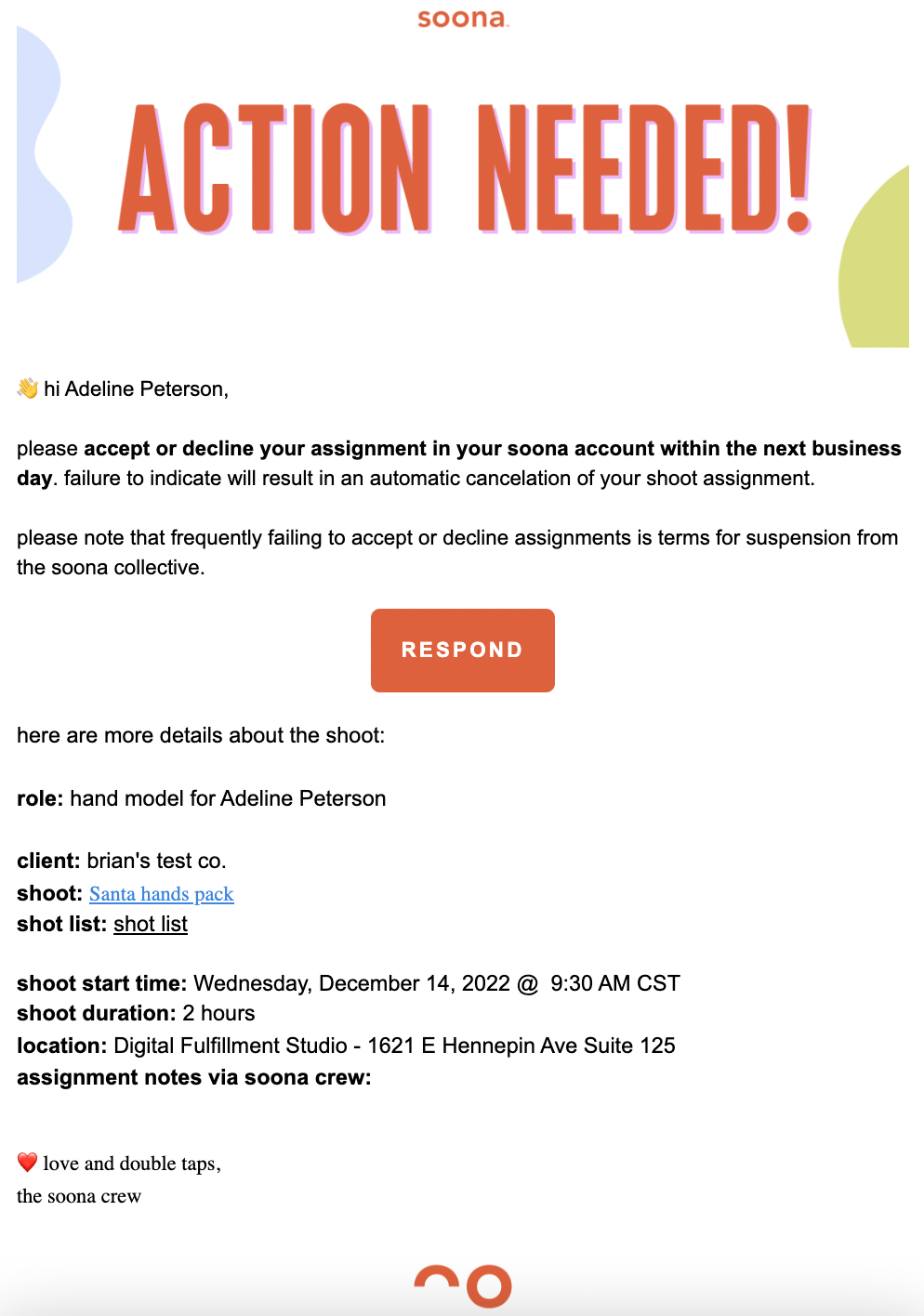 assignment update emails
these emails are sent when one or more of the following details about the booking is changed:
shoot duration changed
assignment notes were edited
client edited the shoot goals
if you receive this email, you are fully responsible for re-reviewing all shoot details and information to note any changes. if you receive this email after accepting the shoot, you do not have to re-accept the assignment. we assume you will still be servicing the shoot.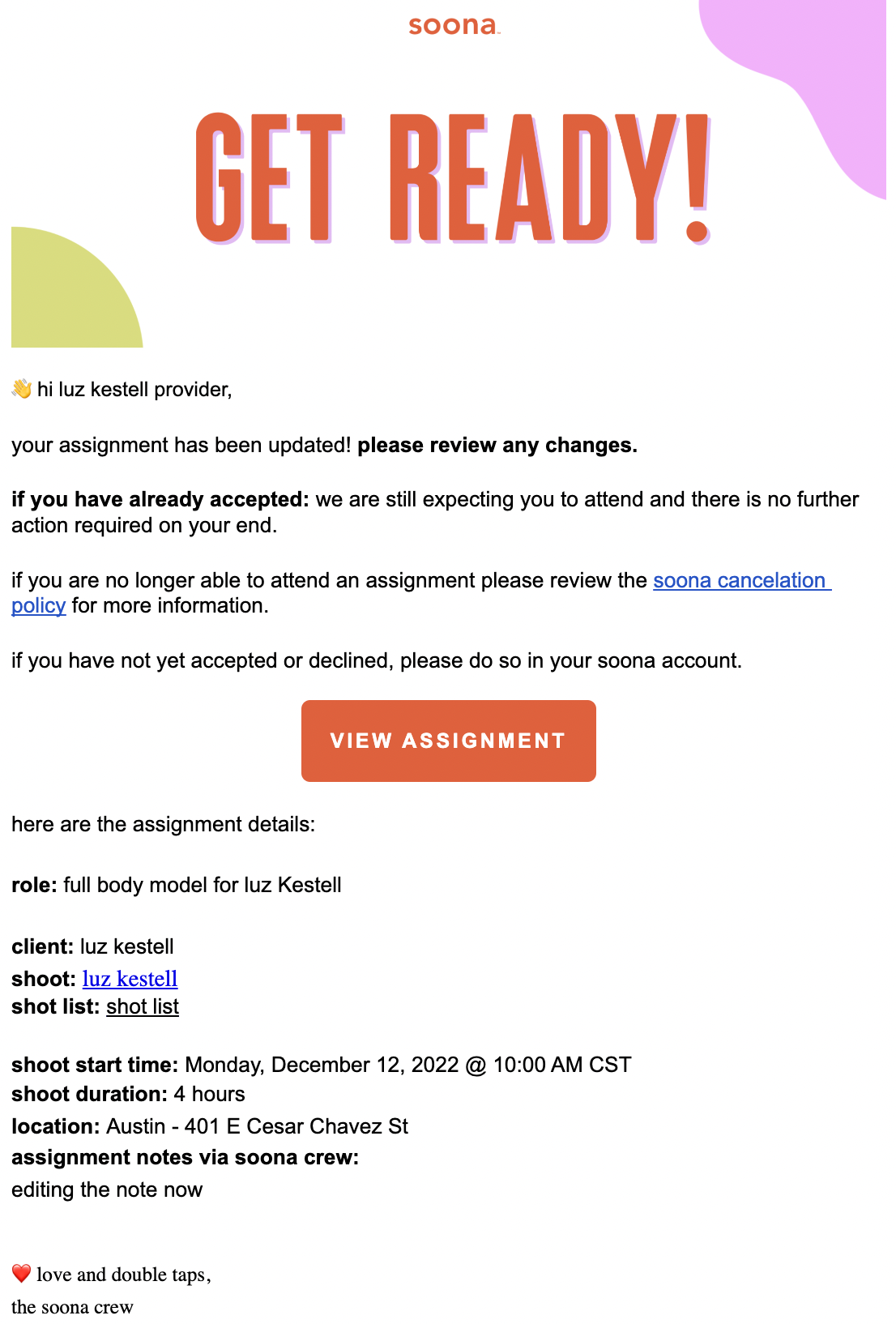 if the update prevents you from being able to service the shoot + you need to cancel, please cancel via the soona platform.

at this time, providers do not receive any reprecussions for cancelling due to a shoot update.
accept/decline assignments
all assignments require you to accept or decline.
you must accept or decline assignments in the book.soona.co platform within 2 business days of being assigned. if you fail to respond, your services will be canceled and replaced for that shoot.
where to accept or decline assignments:
you can accept / decline in two places
within the booking itself

you can navigate here by clicking "respond" within the assignment email.

OR by clicking into the booking via the assignments tab from your book.soona.co dashboard.

accept / decline buttons are present in both the details tab and pro service tab of the booking.

the assignments tab on your book.soona.co dashboard

log into your soona dashboard > assignments tab > list view > accept / decline.
accepting an assignment
if you accept a shoot, you agree to provide your services to the best of your ability to meet client goals, at the location, date + time listed.
please ensure you have reviewed all shoot information available before you accept an assigment.

if you have questions about anything in the shotlist, shoot details, assignment notes, etc. please reach out to collective@soona.co before accepting.
if you decline a shoot after accepting, this is considered a cancellation. soona has a very strict cancellation policy. you can review that policy here.
view from the booking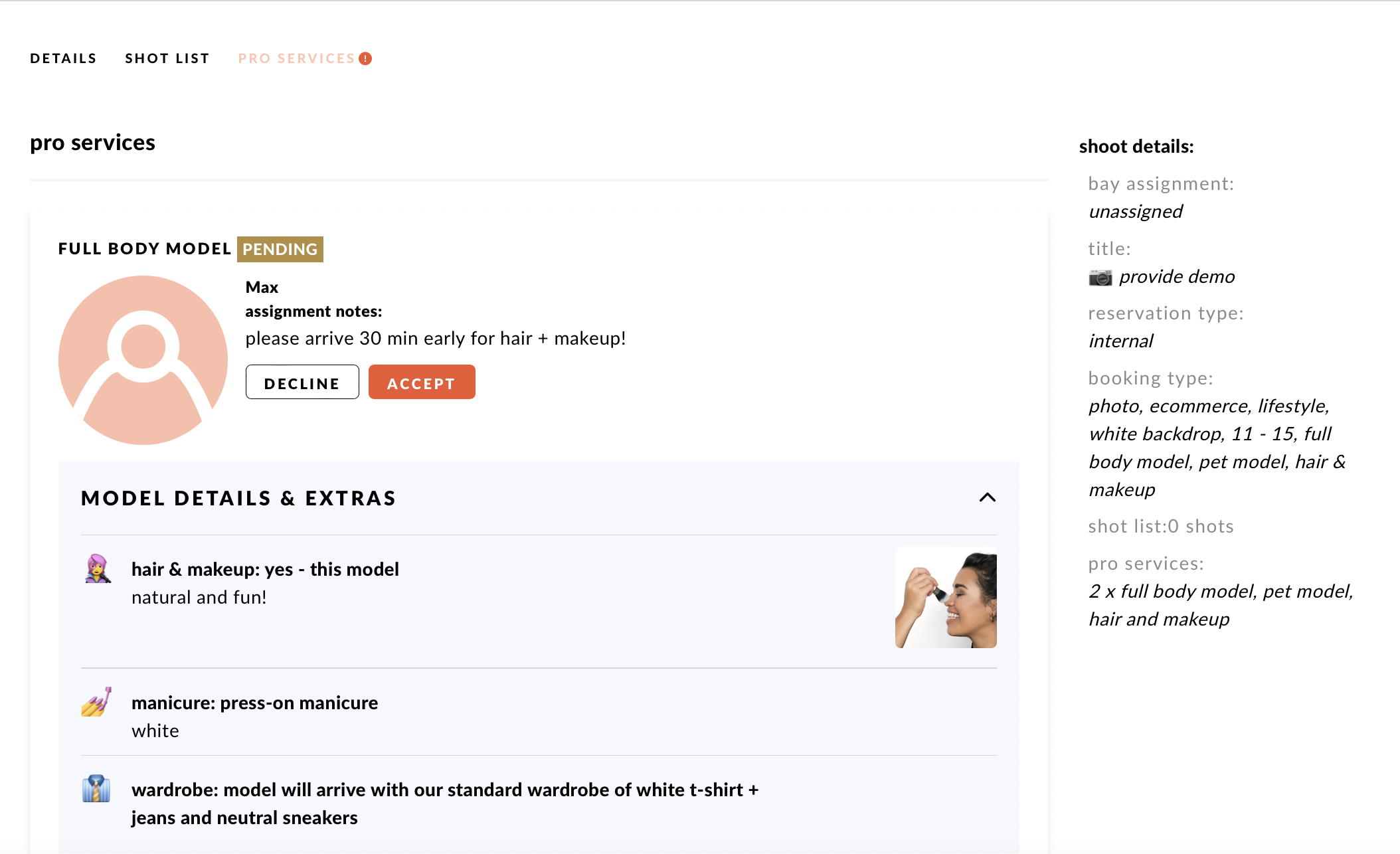 view from dashboard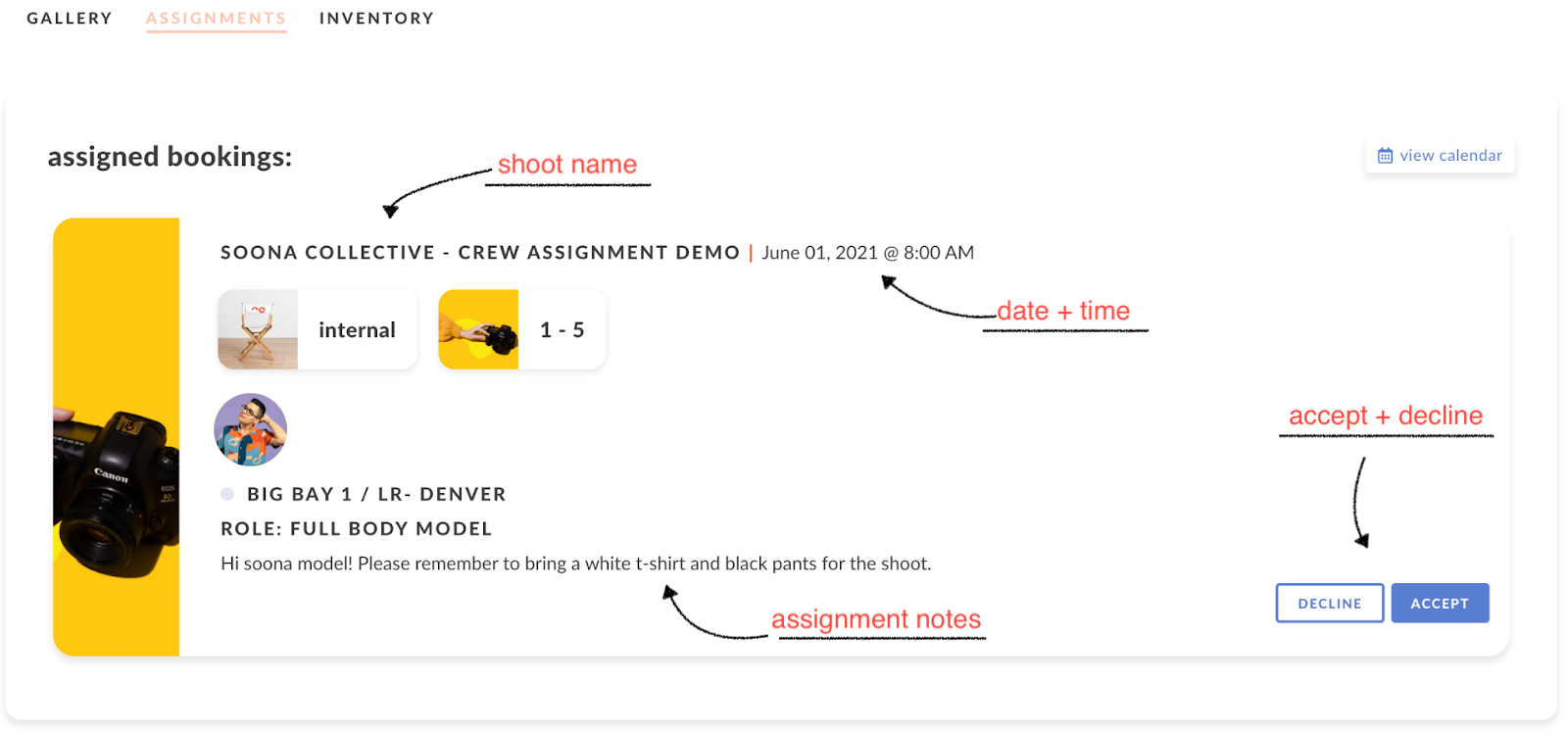 what if I'm uncomfortable with the shoot goals?
we only wish to ask services of you that you are comfortable + confident accomplishing.
after reviewing the assignment materials (shot list, shoot goals, assignment notes), if you feel unable or uncomfortable either obtaining or providing services to meet client needs, please decline the shoot.
if you have questions about an assignment, please reach out to us at collective@soona.co before accepting the shoot. we will happy to answer any questions, comments, and concerns in order to make sure you feel confident accepting the assignment.
need more info?
check out our collective quick links guide for easy navigation to our other helpdocs!
OR checkout these applicable helpdocs
---
---