prop shopping reimbursement
let's get you reimbursed for prop shopping! first you'll need to submit an invoice with shoot dates, shoot names, and receipt. a friendly reminder that payment is not automatic!
all payments for the soona collective are processed through our soona invoice management system. if you are not set up in our system please email collective@soona.co
receipts 🧾
please make sure to ask for a receipt upon payment 
please snap a picture of the receipt for your invoice
reimbursement period 🗓
for payment on the 15th
submission deadline: 10th of the month
for payment on the last day of the month
submission deadline: 25th of the month
please allow up to 3 business days for the payment to be processed. if invoices are submitted after the deadlines or there are errors in the invoice, soona will not be able to make a payment until the next payment period. 
reimbursement process
login to the soona invoice management system
click on the Invoices button ($ sign) on the left side bar.
click on Add New Invoice near the upper right hand corner.
under Item type "(date on the receipt) - (shoot name)". this is the shoot date and name related to the shoot you shopped for.
if the receipt includes prop shopping for multiple shoots please list all the shoot names you prop shopped for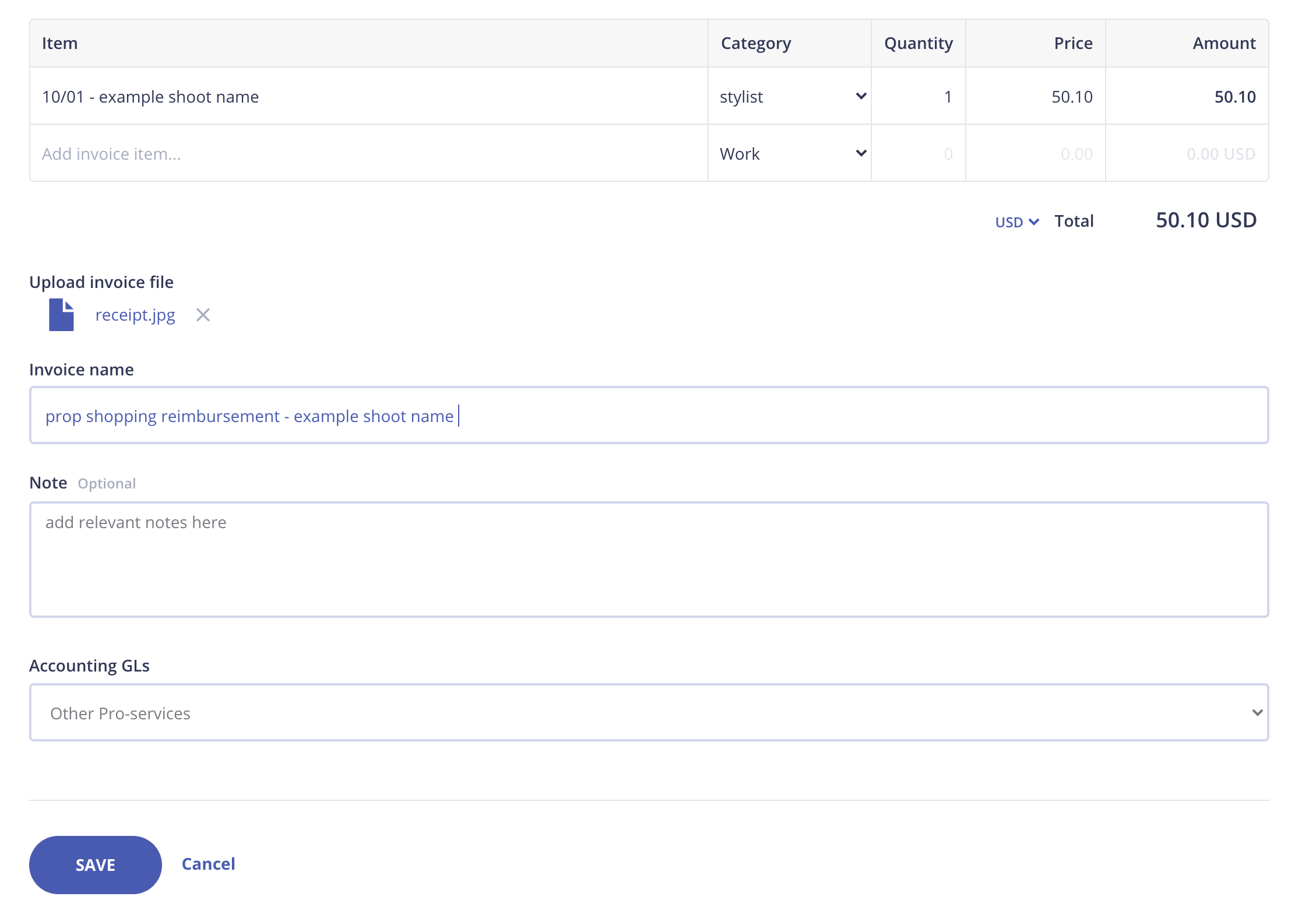 under Category select the stylist
under Quantity enter 1
under Price enter the total amount paid for prop shopping as it appears on the receipt
under Upload invoice file upload a picture of your prop shopping receipt
under Invoice name enter "prop shopping reimbursement - (shoot name)"
if the receipt includes prop shopping for multiple shoots please list all the shoot names you prop shopped for
under Notes add any notes you have for the soona crew
under Accounting GLs select other pro-services
click save to submit your invoice
repeat steps 3-12 for all your prop shopping receipts
---
---