getting started
Welcome to the collective!
We're ✨so excited✨ in your help in our mission of quality content for all.
joining the collective is a freelance hourly position with no fixed contract. we cannot guarantee hours of work.
first thing's first
bookmark these resources for future reference! look here first for any questions. then follow up with collective@soona.co if you have any more.
general expectations
we expect providers to take responsibility for their services provided. this includes keeping your availability + pro service profile tab accurate and also checking your assignments calendar frequently.
some other examples of this could include: taking extra care of your hands, cleaning your tools before you arrive, or being proactive in problem solving + reaching out before shoots.
soona is committed to communicating + sharing expectations as clearly as possible. if we become aware of instances that are outside of our communication expectations, we will send reminder emails in efforts to re-educate on our standards.
always feel welcome to let us know how we can help you prepare for shoots + execute to the best of your ability! ✨
soona account
the soona account is the management center for your services at soona. it is extremely important you know how to navigate the platform + utilize all of its tools provided.
check out this video tutorial of how to use your soona dashboard:
pro service profile
before you can be assigned to your first shoot you must have your pro service profile fully filled out.
check out the instruction 👉 HERE
assignments
when you're requested for a shoot we'll send you an assignment via email that will prompt you to accept or decline in the book.soona.co app. you will have 2 business days to respond to us before we automatically cancel your assignment.
once you accept, you confirm you have read all provided shoot information, and agree to provide your services to accomplish the client's shoot goals at the date, time, and location listed.
check out the full assignment details 👉 HERE!
soona shoots
how long are shoots?
shoots are typically 1-4 hours long depending on client content needs. you can check duration of your shoot in the assignment email, on the assignments tab in calendar view, OR in your google calendar invite.
how does the pace of soona vary from a traditional photo or video shoot? 
soona is a fast casual content studio! we move quickly through shot lists and setups. we'll typically get through 5-15 set ups in 2 hours and 15+ setups in 4 hours. be ready for quick captures + scene changes!
communication
who can I talk to if I have any questions or issues? 
you can reach out to us at collective@soona.co or text us at 844-577-6662.
see communication expectations helpdoc for more information.
clients
who are the clients and products? 
soona creates content for various industries and business sizes! from food/beverages to makeup to fashion, from one person run companies to large coorperations, we help everyone achieve their content dreams!
you can check out our past shoots here!
studio location + parking
what is the studio address?
studio addresses can be found in assignment emails or the details tab of each booking. all google invites will also share the location of the studio.
where can I park?
all our studios have street parking available. please park your vehicle on the street on the front or side street blocks of our studios.
shoot etiquette
should I arrive early for my shoot?
all services must arrive before shoot start time, however, how early depends on what service you are providing. check out this arrival time article for more information.
arriving at shoot start time is considered late. arriving late 3 times is terms for suspension from the collective.
see full info on late + cancellation policy 👉 HERE!
can I share photos or content from the shoots or use them in my portfolio?
we're unable to share assets from the shoot unless the client grants sharing permission. you can share content from shoots that are shown on @soonastudios social feed or posted on any public forum (amazon listings, client website, etc.).
what am I expected to bring + wear to the shoots?
wardrobe + supply expectations are outlined in the onboarding deck links listed at the top of the article.
check out our FAQs for each pro service for more shoot expectation details!
availability and hours
how do I set up my soona availability?
availability is entered right on your dashboard! watch the video below for more details:
do you guarantee hours?
there are no guaranteed hours at this time. joining the collective is a freelance hourly position with no fixed contract. we'll send you an assignment when you've requested for a shoot!
rates + payment info
what are the rates?
each service has a base project rate and most have an additional hourly rate. the amount for base + hourly varies based on service type. check out all the rates here.
the base rate = a flat rate you get per project. the base rate covers up to one hour of work.
additional hourly rate = the rate you get per hour after your first hour of work.
use the chart below to help identify how much you need to invoice for.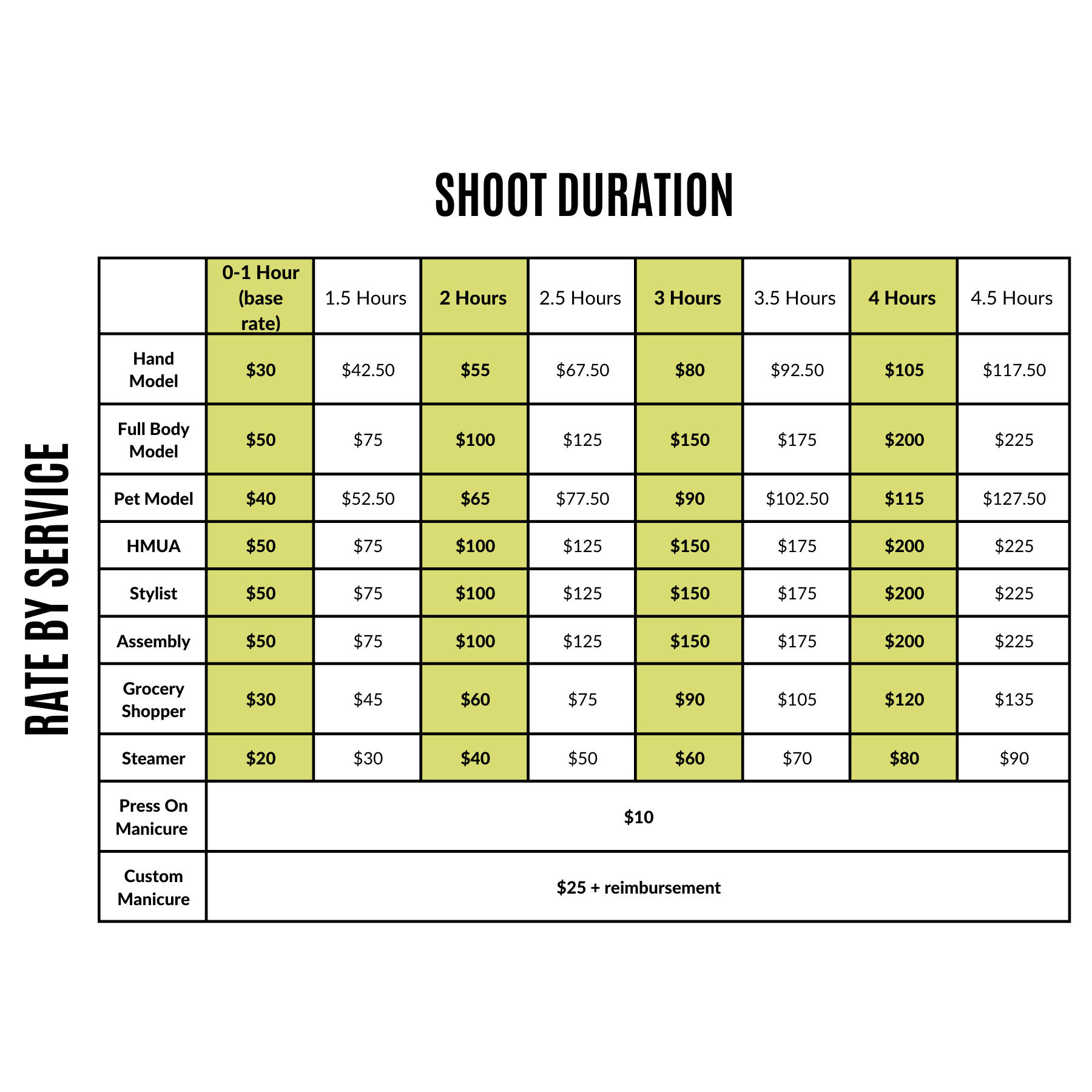 how are we paid?
you will be paid via direct deposit which you set up in the soona invoice and payment system. You must create an invoice for the shoots you worked and submit it within our system.
check out the full invoice and payment process👉 here. 
more info
check out our collective quick links guide to navigate through our helpdocs
---
---