custom manicure
custom manicures
Custom manicures is the service reserved for clients whose product is a manicure tool or nail product such as nail gels, powders, colors, acrylics, etc. When you are assigned to receive a custom manicure you will be required to pick up the nail product in-studio and go to a nail salon to apply the nail products with a manicure.
model compensation 
$25 extra for the time and effort to get a manicure + reimbursement for the manicure costs.
soona manicure product pick up
with custom manicures you may be asked to pick up the manicure products from the studio 1-2 days before your shoot. soona will also provide reference images that you can show your nail tech to get the best manicure results.
booking a manicure 
feel free to book a manicure at your salon of choice. we have recommendations for salons near the studios below.
please note: most manicure requests will need to be obtained quickly + should not be permanent or long lasting.
we encourage you to book with salons that can get you in last minute + quickly. yet also still provide high quality services.
if you are particular about the type of nail tech you use + it takes longer than 1 week to get a manicure, we ask you to please use a different salon for our shoots.

if this is out of the question, let us know so we can make a note on your profile. this may limit the amount of manicure shoots we can give you.
soona will provide details regarding
general time frames for the manicure
manicure styles and requirements 
nails salons
we encourage hand models to get a manicure at one of three salons with a 5-10 mile radius of the studio that offer the OPI colors in our nail polish catalogue.
Austin
Denver
Minneapolis 
Seattle
receipts 
ask for a receipt upon payment 
take a picture of the receipt to submit on your invoice.
reimbursement period 
submit invoice on normal submission deadlines:

2nd and 4th Wednesdays of the month
compensation & reimbursement process
to be fully reimbursed and compensated for a custom manicure you MUST submit an individual invoice for every custom manicure.
login to the soona invoice management system
click on the Invoices button ($ sign) on the left side bar.
click on Add New Invoice near the upper right hand corner.
under Item type "(shoot date) - (shoot name) - compensation"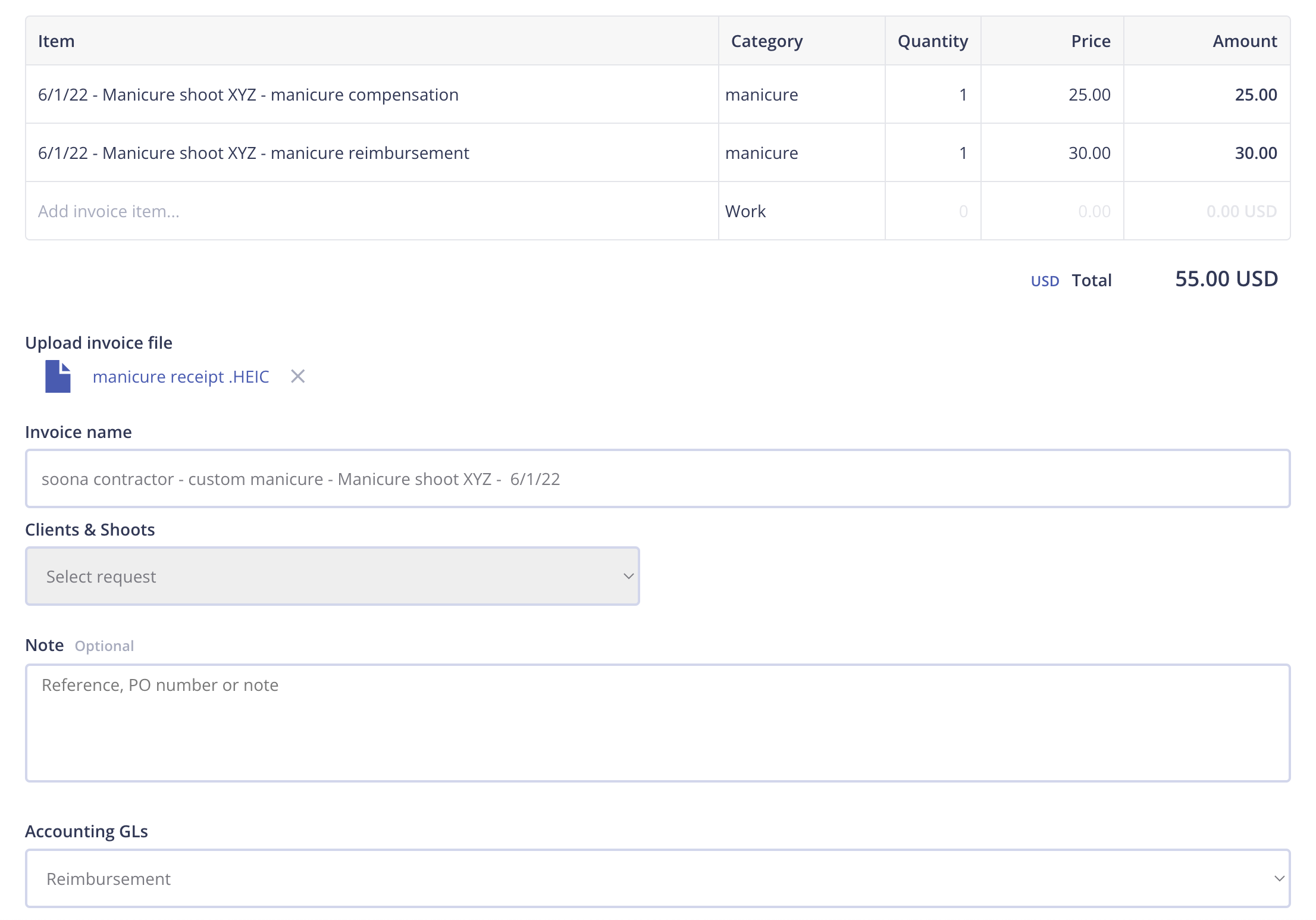 under Category select the manicure
under Quantity enter 1
under Price enter $25
under Item type "(shoot date) - (shoot name) - manicure reimbursement"
under Category select the manicure
under Quantity enter 1
under Price enter the total amount paid for the manicure as it appears on the receipt
under Upload invoice file upload a picture of your manicure receipt
under Invoice name enter "(first and last name) - custom manicure - (shoot name) - (shoot date)"
under Notes add any notes you have for the soona crew
under Accounting GLS select reimbursement
click Save to submit your invoice
---
---